November is New Wine Month
Our Fall 2021 releases are here!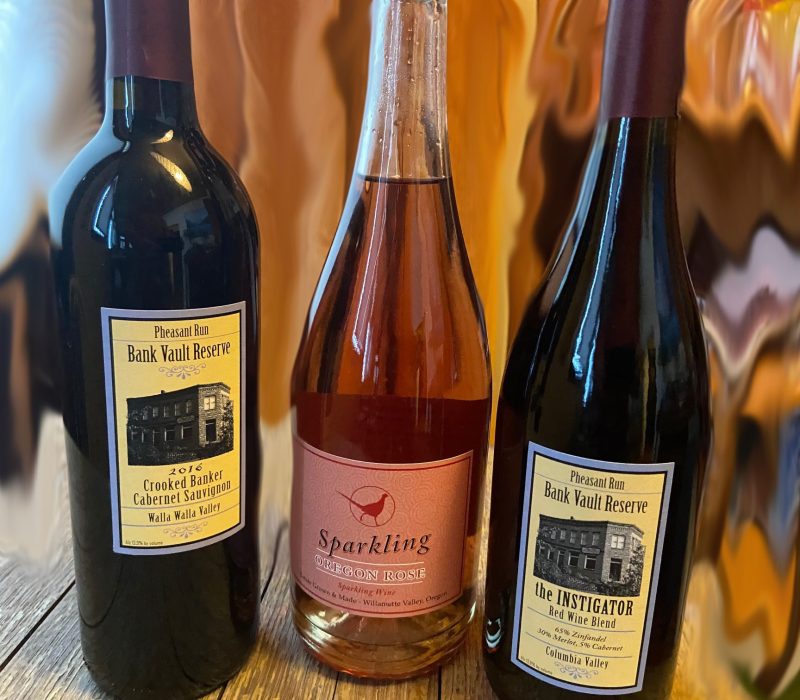 Sparkling Rose
Made with Pinot Noir & Gewurztraminer
Back by popular demand! Our crazy good sparkling that combines the best of both worlds.
Gewurztraminer is one of the most aromatic, full-flavored and least understood grapes on the planet. Blended with the traditional Pinot Noir sparkling grape we came up with a beautifully colored, highly flavored and super-drinkable wine.
Perfect for sipping, holiday dinner and conversation starter.
the INSTIGATOR
Zinfandel Blend 
Looking for something to warm your heart and soul during the wet winter months?
Rich Zinfandel blended with vibrant Merlot for complex dark fruit flavors, soft tannins, elegant finish. We sourced some fantastic fruit, blended a little extra special Merlot &
Cabernet and came out with a non-typical red that goes down smooth, easy & soft.
65% Zinfandel, 25% Merlot, 5% Cabernet, 5% Good Luck.
the CROOKED BANKER Cabernet
2016 Walla Walla Valley
Big, Rich, Deep and Special!
From one of the best vineyards in Walla Walla comes a deep red wine with loads or dark fruit flavor, deep tannins and long finish. Perfect for steaks and chops, or enjoying in
front of the fireplace. Drink it now or enjoy it in a year or two…it will age well.
95% Cabernet, 5% Merlot ~ 100% fantastic!
We're Open & Pouring!
Fridays 2-7, Saturdays 12-6, Sundays 12-5
or online anytime!