The Aurora- Walla Walla Red Blend is back!
The Winemaker's Wife's Favorite…
is a blend of Walla Walla Syrah, Sangiovese and a touch of Merlot.
Rich, but not over the top.  Great with roasts, BBQ, cheeses and friends.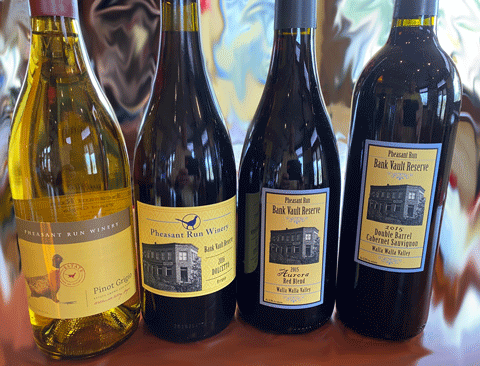 Enjoy these other new releases as well….
All Estate Pinot Grigio– Bright, Fruit Foward with good acid.  Perfect for cheeses and patios.
Dolcetto Reserve- Black cherry, licorice and prune notes complimented
through barrel aging in American Oak.  Pair with pastas, pizzas & rainy NW nights.
Double Barrel Cab – 2015 Walla Walla Wine Club Exclusive
Made from a few of our favorite barrels from 2015- blackberry with dark cherry and silky finish.
WE'RE OPEN AGAIN
Inside and Outside Seating 
Plus new longer hours
Fridays 2-7
Saturdays 12-6
Sundays 12-5 
We recommend that you email in advance or call ahead for a table- since we have limited seating.