This Saturday, August 10th marks the 3rd Anniversary of our tasting room in the old bank building in Aurora.
 We've loved being part of the vibrant community!  This Saturday during Aurora Colony Days we will be releasing two new wines for the occasion….
From one of our favorite vineyards in Walla Walla comes an aromatic food wine with deep garnet color & with hints of cassis, cherry and spice.  From the larger of the two clones of Sangiovese- this will be a long lived wine.  Aged two years in French & American oak this wine is great pastas, cheeses & roasts or on its own.   Get it while you can- our Sangio is always in demand….
2010 "Aurora" – Walla Walla Blend
A Syrah based blend that is deep, velvety and smooth.  Tara's favorite blend is a little bit lighter than the Bank Robber but a little more fruit forward. A rich wine that is brimming with red cherry, plum, spice along with black pepper and sage.  Released for our 3rd anniversary for August 2013 -A real keeper that is light enough for summertime patio sipping and rich enough for the crisp days ahead!
Come on out & enjoy! 
There will be lots of fun in Aurora this Saturday – it is Colony Days !
Antique Street Fair.  The main street will be lined with antique vendors plus food, art & music 10am-5pm.
Parade-10-11:30 am. This hokey fun features local groups, tractors, wagons, floats and will be presided over by the 2013 Aurora King & Queen- yours truly Carl and Tara!
Music in the Park-6pm. Pheasant Run is sponsoring a concert in the Aurora Park featuring "The Poor Sports";  KINK 101.9 DJs' band-playing music from the 80s.   Free concert, food vendors and great wines on site….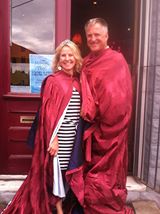 Signed – the King & Queen of Aurora Colony Days 2013